SPRING SEPTEMBER 2017
SCHOOL HOLIDAY 
WORKSHOP INFORMATION:
25 – 29 SEPTEMBER
Facilitated by Tracey Hayim, Stella Chen, Kayla Tomé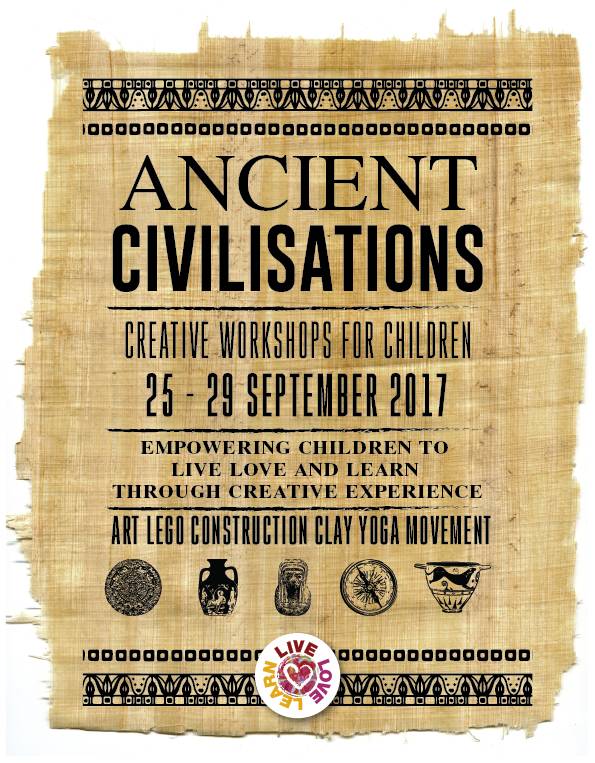 WHAT'S ON IN SEPTEMBER AT OUR HOLIDAY WORKSHOPS?
MONDAY 25 SEPTEMBER 9AM – 3.15PM • ANCIENT EGYPT
OUR JOURNEY TO EGYPT WILL BE RICH WITH CULTURE OF THIS ANCIENT CIVILISATION, WHERE THE PHAROAHS RULED AND THE PYRAMIDS STOOD TALL. WE WILL EXPLORE THE ARTS AND CULTURE OF THIS SOCIETY WHICH STILL FASCINATES US TODAY. WE WILL CONSTRUCT OUR OWN PYRAMID AND ADD HIEROGLYPHICS. THE DAY WILL INCLUDE MOVEMENT AND MIME. LET'S PRETEND TO BE MUMMIES.

TUESDAY 26 SEPTEMBER 9AM – 3.15PM  • ANCIENT GREECE
ANCIENT GREECE IS RICH WITH HISTORY FROM THE OLYMPICS, THEIR ARCHITECTURE TO TIMELESS MYTHS AND LEGENDS. WE WILL EXPLORE THIS ANCIENT CULTURE, READ SOME MYTHS AND LEGENDS LIKE PANDORA'S JAR, CREATE ILLUSTRATIONS AND THEN TRANSFORM THEM INTO A RELIEF ARTWORK USING MODELLING CLAY.

WEDNESDAY 27 SEPTEMBER 9AM – 3.15PM •  ANCIENT ROME
ANCIENT ROME WAS A MASSIVE EMPIRE, THEIR CULTURE, ARTS AND PHILOSOPHY INFLUENCED MANY COUNTRIES AND WE WILL EXPLORE THEIR PHILOSOPHY, THEIR ARTS AND CULTURE. WE WILL PRETEND TO BE ROMAN WARRIORS, CREATE A HEADDRESS WITH OUR OWN SELF PORTRAITS AND MAKE HAND MADE CLAY VESSELS INSPIRED BY ROMAN DESIGNS.

THURSDAY 28 SEPTEMBER 9AM – 3.15PM  • THE ANCIENT AZTECS
THE AZTECS WERE FAMOUS FOR THEIR AGRICULTURE, THEY DEVELOPED A FORM OF HIEROGLYPHIC WRITING, A COMPLEX CALENDAR SYSTEM, BUILT FAMOUS PYRAMIDS AND TEMPLES. WE WILL EXPLORE THEIR POETRY, MUSIC AND SCULPTURE AND ART. WE WILL EXPLORE THEIR PATTERN MAKING AND CREATE OUR OWN MOSAIC MASKS IN CLAY AND WE WILL FIND INSPIRATION FROM THEIR PATTERN MAKING AND CREATE A STUNNING WOVEN IMAGE USING PAINTING AND CUTTING.

FRIDAY 29 SEPTEMBER 9AM – 3.15PM •  ANCIENT TREASURE EXPLORERS
OUR WEEK CANNOT BE COMPLETE WITHOUT THE ULTIMATE ADVENTURE USING YOUR IMAGINATION, CURIOSITY AND CREATIVITY. WE WILL CREATE OUR OWN TREASURE BOXES WITH FOUND OBJECTS FROM ANCIENT CIVILISATIONS AROUND THE GLOBE. WE WILL CREATE AN ANCIENT MAP AND MUCH MORE. THE DAY WILL INCLUDE, MIME, MOVEMENT AND ART. COME DRESSED-UP AS YOUR OWN IMAGINATIVE CHARACTER.

OUR TEAM
Kayla Tomé
Kayla is a dance artist who began her training in Sydney at the age of 3 and who has dedicated her life to creating, teaching and performing internationally. She has a degree in Dance, Theatre and Education and a Post Graduate Diploma from London's Trinity Laban Conservatoire of Music and Dance in community Dance and has taught dance, and yoga at many primary schools across London and Sydney to children with varying abilities. We look forward to working with Kayla.
Kayla's Philosophy:
"I believe that all children should be given the freedom and opportunity to access the world of creativity that lies within them and can come to understand themselves and others through the practice of creative learning. I aim to provide a safe and nurturing space where children can channel and explore their self-expression and imagination. The creative and collaborative process allows children to develop fundamental life skills and gives them the confidence to carry these into the rest of their lives becoming well rounded, happier and healthier individuals and creating more cohesive communities."
Stella Chen is also part of our team and has been working with us for 6 months. Stella is an up and coming emerging contemporary artist who has held exhibitions in Sydney and Hong Kong. Her work uses diverse mediums from paint to installations and digital media. She also uses dance and movement in her work. She is sensitive and empathetic and totally inspirational. She has a Master in Fine Art Degree from UNSW.
Our team is amazing! We also have to be very grateful for the young High School students who also help make the workshops flow nicely. All of the students have been participants in the Live Love Learn program previously and love to return to help us out.
Venue:
Dates:
25 – 29 SEPTEMBER

Time:  
9am – 3.15pm – Please contact us 48 hours before if you need early drop off.
Ages:  
Year K – 5
Suitable for both boys & girls
What to bring:  
Morning tea and lunch + wear old clothes + sunblock + sun hat
EARLY BIRD $72 PER CHILD, ENDS 14 SEPTEMBER
EARLY BIRD SIBLING $133.20, ENDS 14 SEPTEMBER
$80 PER DAY PER CHILD
$148 PER DAY FOR ONE CHILD AND A SIBLING
Booking Link: