We're proud to be part of the SMH @Spectrum_Now Festival presented by ANZ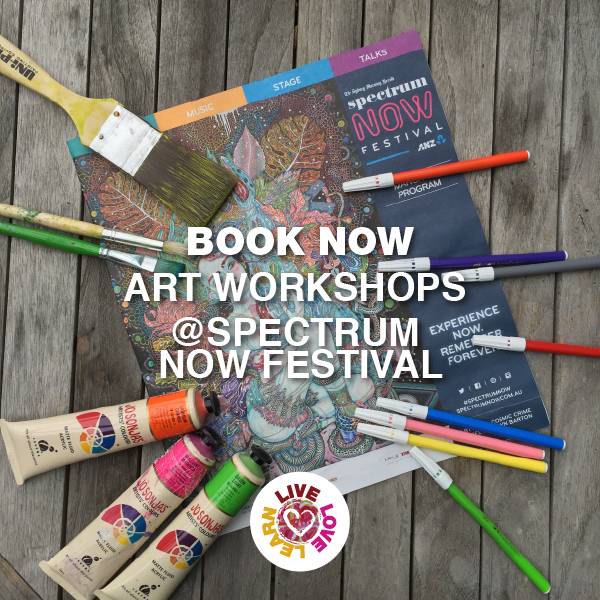 Spectrum Now have many exciting creative programs and events suitable for kids and adults.
We would love your kids to join us to create and use their imagination at Spectrum Now Festival. We will inspire them with 4 amazing creative art workshops for children in Year K to Year 4. Create artworks inspired by the colour and wonders Sydney has to offer, in the themes of Botanical Gardens, Bondi Beach, Harbour View and Under the Sea.
Inspired by our much loved Ken Done and his amazing simplicity of creating images that evoke the true feeling of what Sydney is about, we will create our own Harbour View a landscape of our beautiful Sydney Harbour. We will explore the waterways, icons and landmarks that make Sydney so incredibly beautiful.
Utilising pastels as a medium, we will explore their beautiful nature of blending. We will show you how to create a focal point in your images and simplify shapes to create patterning.
Let us explore the beauty and diversity of the many species of plants and bird life that habitat our beautiful Botanical Gardens. Our artworks will be inspired by Mirka Mora a famous Australian artist, who's style compliments the many elements found in the gardens. Create an artwork with mixed media, drawing, printing and water colours.
Learn how to create an exciting composition, use colour effectively and how to utilise different mediums in one artwork.
Create your own beach bag inspired by the many elements found at Bondi, surf, sea life, beach, street art and more. We will discuss the importance of keeping our beaches clean and looking after our waterways. Take home your bag with fond memories of the beautiful summer we always enjoy in Sydney.
To create our artworks we will first sketch different elements of Bondi with pencil and then add these elements to our beach bag. Using permanent marker we will create a tie-dye effect that looks awesome.
Sydney's sea life is colourful and vibrant, we will make our own under water fish tank, inspired by the vibrant colours found beneath our Sydney waters. We will construct, collage, glue and even learn to make our own origami fish to float in our tanks.
Learn how to make a 3D composition with construction art, utilising different materials. Great for fine motor development. This promises to be a very mindful experience.