BOOKINGS OPEN FOR KIDS ONLINE APRIL HOLIDAY WORKSHOPS

VENUE: ONLINE
DATES: 15 – 17 APRIL AND 20 – 22 APRIL 2020
SESSION PRICES:
1 HOUR SESSIONS FOR YEAR K – 2: $20
2 HOUR SESSIONS FOR YEAR 3 – 6: $30
BUY 6 SESSIONS AND RECEIVE A 10% REBATE – REFUNDED ONTO THE CARD USED ON TRYBOOKING.
IF YOU UTILISE YOUR CREATIVE KIDS VOUCHER WE WILL REFUND YOU AFTER THE WORKSHOPS ONTO THE CARD USED ON TRYBOOKING.
BOTH OF THESE REBATES WILL ONLY BE DONE AFTER THE WORKSHOPS ARE COMPLETE DUE TO ADMIN PURPOSES. WE WILL EMAIL YOU ONCE IT HAS BEEN REFUNDED VIA OUR TRYBOOKING SYSTEM.
SESSION TIMES:
SESSION 1: YEAR K – 2: 8.30AM TO 9.30AM | 9.30AM TO 10.30
SESSION 2: YEAR 3 – 6: 10.30AM TO 12.30PM | 11AM TO 1PM
SESSION 3: YEAR K -2: 1.30PM TO 2.30PM
SESSION 4: YEAR 3 – 6: 3.30PM TO 5.30PM
AGES:
KIDS – Year K – 6 | Suitable for both boys & girls
WHAT TO BRING TO SESSION:
Make sure you have water close by in case you need to drink.
You will be sent the materials that you will need for each day.
You may purchase our art kit which is filled with all materials for all the workshops that is all 6 sessions. Left overs can be used for future use.
Laptop with ZOOM uploaded.
BOOKING LINK:
KIDS WORKSHOPS: https://www.trybooking.com/607336

LOOK WHAT'S IN OUR ART KIT: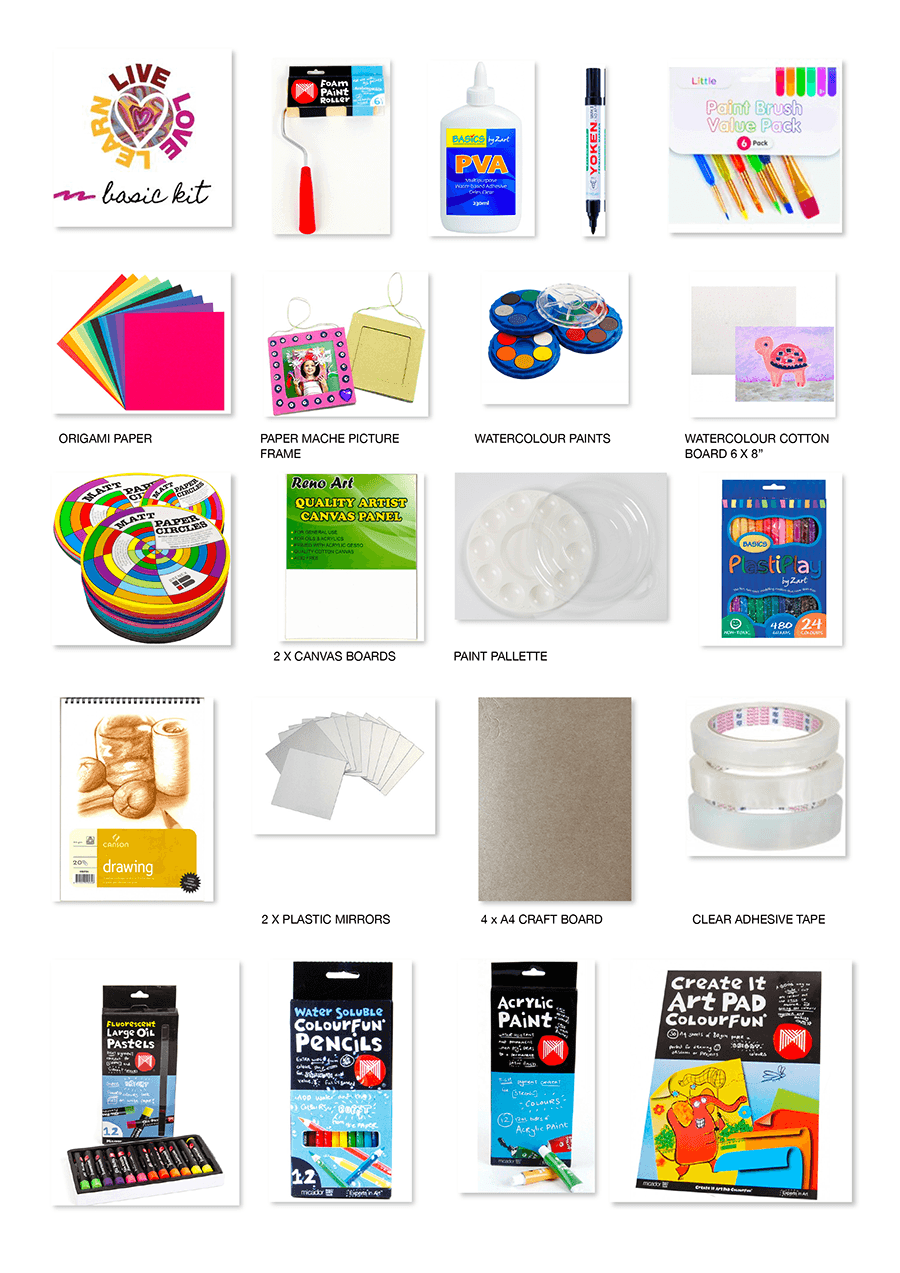 BASIC ART KIT CONTAINS:
Drawing Sketch A3 Pad, 20 Sheets
Kraft Paper 235gsm, A4+, 4 Sheets
Colour Paper Pad A4 5 Colours, 30 Sheets
Origami Colour Paper 15x15cm, 100 Sheets
Matt Paper Colour Circles 180mm, 100 Sheets
Acrylic Colour Paint Set, 12x12ml tubes
Stack-Twist Watercolour Paint Tower, 18 Colours
Plastic Paint Palette Round, Diameter 16.8cm
Combination Brush 7 Piece Set
2 x Canvas Panel 8 x 10″
Watercolour Cotton Board 6 x 8″
Fluorescent Oil Pastels, 12 Colours
Watercolour Colour Pencils, 12 Colours
Permanent Marker Black, Bullet Nib
PlastiPlay Modelling Clay 480g, 24 colours
PVA Glue 230m
Foam Roller 100mm
Clear Adhesive Tape 66m x 18mm
Mirrors Plastic 5 x 5cm, Set of 2
Papier Maché Hanging Square Photo Frame, 12x12cm
Delivered FREE to your home (Sydney Metro only – A Delivery cost for other areas)